Chicago Area Track Days
Instant Access to Premier Road Racing Circuits.
New for 2020!
More Events – Lower Prices
We are planning 13 Track Events for this season. This year we will be visiting AUTOBAHN COUNTRY CLUB in Joliet, Illinois nine times and ROAD AMERICA in Elkhart Lake, Wisconsin twice!
9 track packs Available
More Fun for Less Money
8 DATES for

High Performance Drivers Education
 LAPS TRACK DAYS • HPDE/OPEN TRACK EVENTS
(High Performance Drivers Education)
SINGLE TRACK DAYS • Autobahn- $255.00 • Road America- $265.00
May 16th, Saturday – ROAD AMERICA
May 17th, Sunday – ROAD AMERICA
June 1st, Monday – AUTOBAHN COUNTRY CLUB
July 13th, Monday – AUTOBAHN COUNTRY CLUB
August 9th, Sunday – ROAD AMERICA
August 10th, Monday – ROAD AMERICA
September 14th, Monday – AUTOBAHN COUNTRY CLUB
October 12th, Monday – AUTOBAHN COUNTRY CLUB
LAPS TRACK DAYS encourages you to bring your favorite cars, drive all day, relax and have fun. You are part of a group of like-minded enthusiasts seeking the complete experience. To help you get the most out of your day at the track, our experienced instructors can offer advice and show you the proper and fastest way to get around the course. Whether you are a novice or experienced driver, if high performance driving is what you love to do, then LAPS TRACK DAYS is for you!
LAPS is very lucky to have so many great members/drivers that are fun, talented and willing to share their experience to help others grow and develop their skills more quickly. What we have found is if you take the time to get to know the people that you're driving with you will find a new pleasure in your track days. Not only will you be excited to get out on the track and try out your new tires, brakes, suspension, or new skills learned in the off season, but you'll be excited to see your friends and make new ones. Catching up, offering assistance, or just enjoying someones company can become a significant part of your track day experience. It's always nice to see familiar faces and to feel comfortable with your surroundings.
Participants usually get 2.5-3 hours of track time or more per event . We have different pricing available in a tier format which allows you to sign up for all or just pick and choose individual dates you'd like to participate in. Our Pricing is very competitive!
2.5-3 hours of track time (5 x 30 minute sessions or more)
We welcome all driving experience levels – Beginner, intermediate, and advanced run groups
LTD's drivers school available for new drivers   
In car Instruction available for Beginners, Intermediate and advanced driving levels
Well ran and organized event
Easy going/low stress environment that's focused on safety, fun and driver advancement 
A structured schedule focused on getting the maximum track time allowable per event
The most seat time for you dollar
Social and fun group of like minded enthusiasts
Easy on Family time – (Allows you more weekend family time)
Most makes and models welcome (some exceptions)
Dinner and or drinks post event for socializing and bench racing
Seat time, seat time, seat time!
7:00AM GATES OPEN
7:00-8:00AM REGISTRATION/CHECK IN
8:15-AM DRIVERS MEETING
8:30-5:00PM TRACK IS GREEN/HOT
5:00- CHECKERED FLAG/END OF EVENT
5:15-DINNER AND OR DRINKS (TBA)
5 DATES for
Advanced Drivers
LAPS TRACK DAYS • ADD EVENTS
(Advanced Drivers Day)
Autobahn ADD- $220.00 (Experienced Drivers Only)
May 27th, Wednesday – AUTOBAHN COUNTRY CLUB
June 17th, Wednesday –  AUTOBAHN COUNTRY CLUB
July 8th, Wednesday – AUTOBAHN COUNTRY CLUB
July 29th, Wednesday – AUTOBAHN COUNTRY CLUB
August 26th, Wednesday –  AUTOBAHN COUNTRY CLUB
This was a new format for LAPS TRACK DAYS in 2018. The most track time for your dollar, that is easy on your work, and family schedule. You'll get 3 hours of track time, and the events will be held on 5 Wednesday afternoons throughout the season. There will be no run groups. The Green Flag will be be dropped and the track will go hot and stay hot for 3 hours until the checkered flag is thrown.
The event will be ran under our green groups rules with passing allowed with a point. Drivers will be allowed to enter and exit the track during that time as necessary. You'll be allowed to manage your time, take breaks, make changes to set up, check tire pressures or whatever is needed. Our ADD events are designed for current Advanced or Intermediate drivers, driving instructors, test & tune for an individual/team for an upcoming event, drivers working on car setup, or for those simply looking to advance their skills quickly with more seat time.
These Events are for experienced drivers only. If you are a current intermediate or advanced driver with LAPS TRACK DAYS, AUTOBAHN COUNTRY CLUB MEMBER/DRIVER, PCA, BMWCCA, AUDI CLUB, MIDWEST COUNCIL, SCCA, NASA,….. you may register for these ADD Events. All drivers will need to enter their driving resume/credentials/references when registering. All Drivers will be reviewed and contacted if necessary.
3 hours of track time
Easy on Family time – (Allows you more weekend family time)
Easy on work schedule – (No need to use vacation time to drive)
Manage your own track time
Experienced (INT. & ADV.) drivers only – (Drive with like minded and similarly skilled drivers)
Allows for setup changes and car prep – (with ease of getting back on track quickly)
Perfect for individual or team test & tune
Seat time, seat time, seat time!
3:30-5:00PM REGISTRATION/CHECK IN
5:00-5:15PM DRIVERS MEETING
5:30-8:30PM TRACK IS GREEN/HOT
8:30PM – CHECKERED FLAG/END OF EVENT
Event may start 30 minutes earlier dependent on time of year
More Fun for Less Money with
TRACK PACKS
• Track pack holders can buy Guest drivers passes for $250.00  (Guest passes not valid for Road America)
• TRACK PACKS 2 – 6 can be upgraded
• Membership fee included in all TRACK PACKS
****NEW PRICE STRUCTURE FOR 2020**** IMPORTANT PLEASE READ!
PLEASE NOTE – YOU WILL RECEIVE THE BEST POSSIBLE PRICING THE EARLIER YOU REGISTER AND YOU CAN GET UP TO 35% OFF. FOR EXAMPLE OUR BEST DEALS ARE OFFERED ON THE BLACK FRIDAY/EARLY BIRD SPECIAL. ONCE THAT EXPIRES YOUR NEXT BEST PRICING OPTIONS WILL BE TO UTILIZE THE TRACK PACKS. INDIVIDUAL TRACK DAYS WILL START AT THE LOWEST SINGLE DAY PRICE AND THERE WILL PRICE INCREASES, PLUS A LATE FEE ADDED ONE WEEK PRIOR TO THE EVENT. THE MOST EXPENSIVE REGISTRATION WILL BE THE DAY OF THE EVENT. WE HOPE THAT YOU TAKE ADVANTAGE OF THE NEW PRICING STRUCTURE AND SHARE IT FREELY WITH DRIVING FRIENDS AND FAMILY. WE'RE LOOKING FORWARD TO A GREAT 2019 DRIVING SEASON!
NEW FOR 2020!
TRACK PACK PREMIUM
7 Track Events
2020 Track Pack Discount Pricing – $1,855.00
Includes 1 guest drivers passes ($400.00 value)
FLEXIBLE OPTION  – A Discounted Rate for any 7 of the 13 Event Dates that work for you!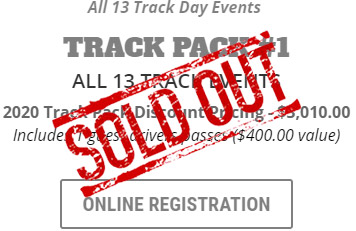 TRACK PACK #3
All 4 Autobahn Full Days
2020 Track Pack Discount Pricing – $960.00
Includes 1 guest drivers passes ($400.00 value)

TRACK PACK #4
3 Autobahn Days
2020 Track Pack Discount Pricing – $720.00
Includes Option to purcahse 1 guest drivers pass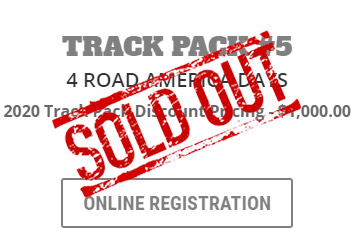 TRACK PACK #6
2 Road America Days
2020 Track Pack Discount Pricing – $500.00


TRACK PACK #7
5 ADD Events at Autobahn
2020 Track Pack Discount Pricing – $1,050.00
Includes Option to purchase 1 guest drivers pass

TRACK PACK #8
3 ADD Events at Autobahn
2020 Track Pack Discount Pricing – $660.00
Includes Option to purchase 1 guest drivers pass